October 31, 2019 10:36 am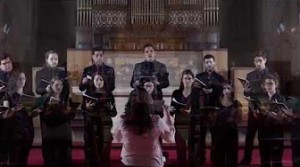 Last year, the Chilean Choir, Coro Elysium, gave a performance of John's quartet of WWI pieces The Singing Will Never Be Done. This collection brings together texts from the soldier-poets: Wilfred Owen, Isaac Rosenberg, Seigfried Sassoon and Ivor Gurney and has been described as 'a group of astonishingly assured settings'. The South American premiere of the collection was given in Santiago on 22 November 2018, in a concert entitled 'Guerra y paz'. John's pieces were juxtaposed with Eric Whitacre's settings of 'Three Flower Songs' by Octavio Paz.
The entire concert has been posted on YouTube and is well worth a listen.
The score of The Singing Will Never Be Done is available from Shorter House in the UK and Worldwide, except in the US where it is distributed by Edition Peters.
Categorised in: Uncategorized
This post was written by admin