February 26, 2020 5:15 pm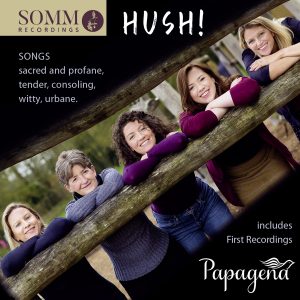 Papagena, the brilliant British female vocal quintet, have been performing 'O viridissima virga' in their live shows for a couple of years now. John's setting of the Hildegard of Bingen text was composed in 2005 as a commission for Lucy Haigh's Oxford-based Hildegard Choir. It has proved popular with upper-voice choirs on both sides of the Atlantic.
Now, Papagena have released a new recording of the piece on an album entitled Hush! on the SOMM recordings label. It is available direct from the SOMM website in a variety of different flavours. The breadth and scope of the recording is well covered in an interview with Presto Classical, and there is a comprehensive review on MusicWeb International. Information about Papagena and news of their recordings and touring schedule is on their website.
Categorised in: Uncategorized
This post was written by admin